Black-on-Black Gets an Upgrade with STALKR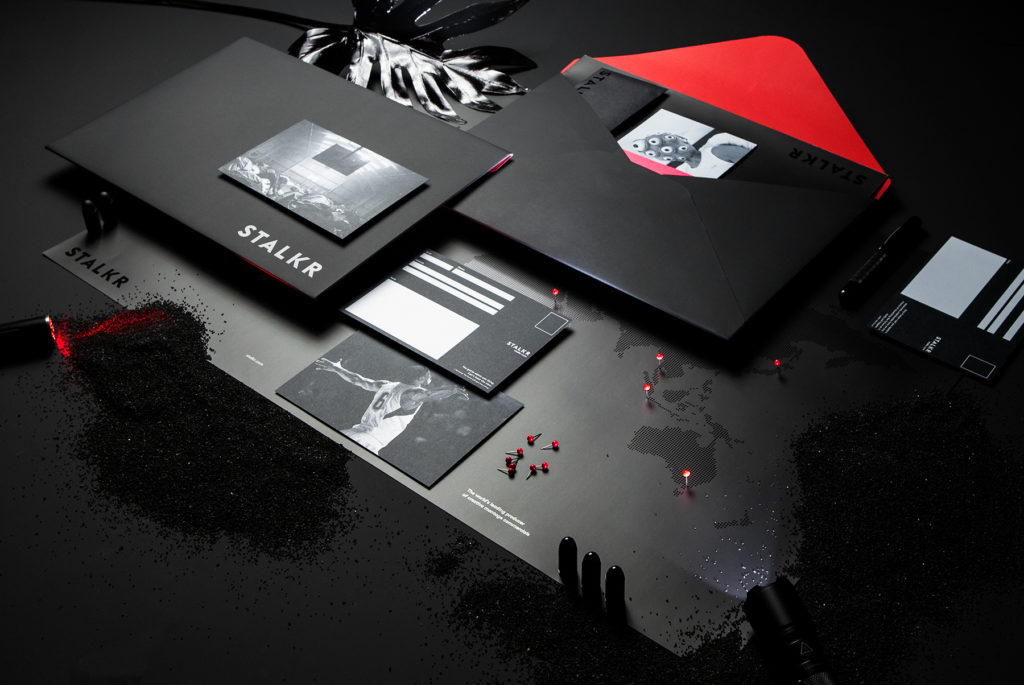 Imagine that a client comes to you with the following task: create some bold new collateral that can be left behind at meetings that will (1) match our brand, and (2) have enough gravitas that it doesn't get chucked in the trash with every other mug and t-shirt.
That's the challenge our friends STALKR came to us with last year, and it's our favorite kind of project. We were already very familiar with their brand from designing and building their website, and writing all of their content, so making a physical product felt like a natural extension of our work. We sat around our conference table and bounced around ideas until we came up with something radical enough that we thought would work.
STALKR has a global reach, with a network of filmmakers they can tap to shoot dynamic footage for creative montages for any possible need a client could have. It's a stealthy operation, and watching any of the commercials or films they have worked on, you would never be able to tell the copious amounts of work that went into any individual piece of work.
[gallery link="none" ids="14579,14581,14583,14584"]
To celebrate that international flexibility and the covert nature of their operation, we designed and produced stunning black-on-black STALKR-branded maps, complete with red pins to mark locations, postcards to tack on or around the posters, secured into a beautiful envelope folder that is the perfect size and durability to double as a laptop case. The maps were printed on matte paper with a spot gloss on all of the graphics, the effect of which allows a beautiful dot matrix to jump off the paper when it's hung on a wall. Each of the postcards were printed on black paper with white ink, a capability we found was rare among most local (and even national) printers.
Along with the maps, pins, postcards, and envelopes, we made tote bags, dad caps, and hoodies branded with the STALKR logo in rubberized ink that manages to look better after every wear. Together, the collateral carries through the refined, sleek aesthetic of the STALKR website through products that are stunning and made to last.