Making Political Playlist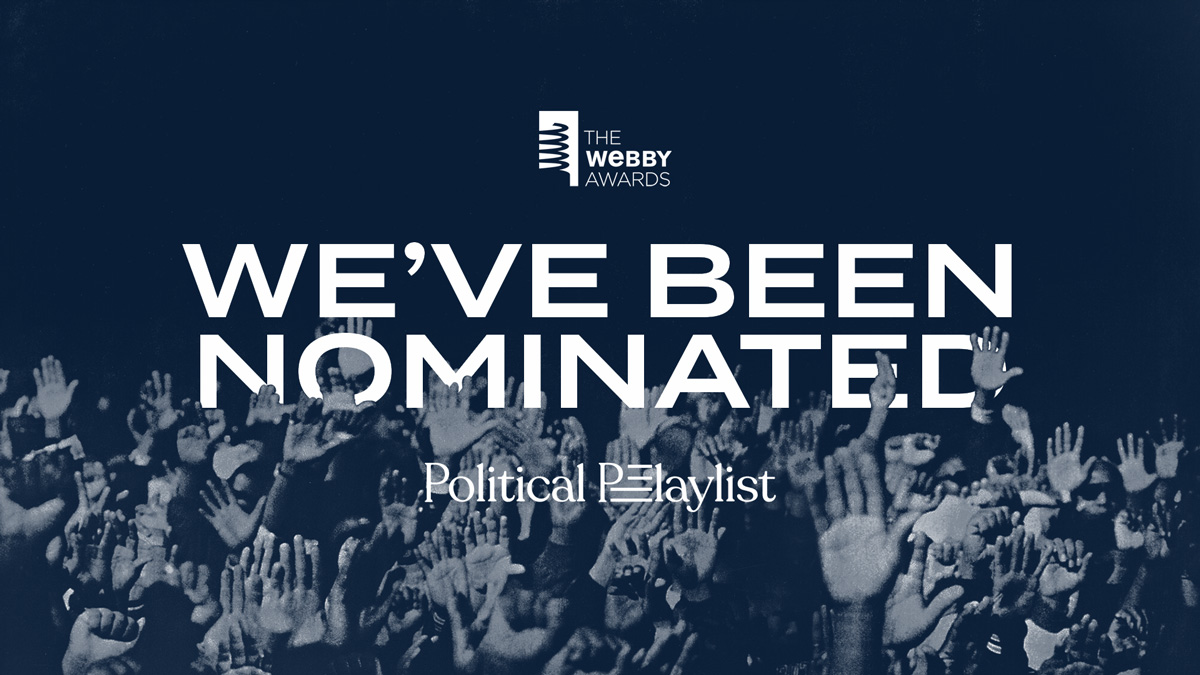 We are so f*cking proud and excited that the website we designed for Political Playlist has been nominated for a Webby Award in the Government and Civil Innovation category. We want your vote!
"Designing this site was a real partnership between Funkhaus and Political Playlist founders, Anthony Barker and Anna Musky-Goldwyn," said Nick Dies, Partner at Funkhaus and Partnerships Director. "They knew their world of politics front-to-back and had a grand vision for what they wanted Political Playlist to be. From my very first phone call with them, they were open to hearing our ideas - both creatively and functionally - on how we could bring this complex idea to life through our practice, which tapped all of our disciplines across strategy, design, and technology to make it happen."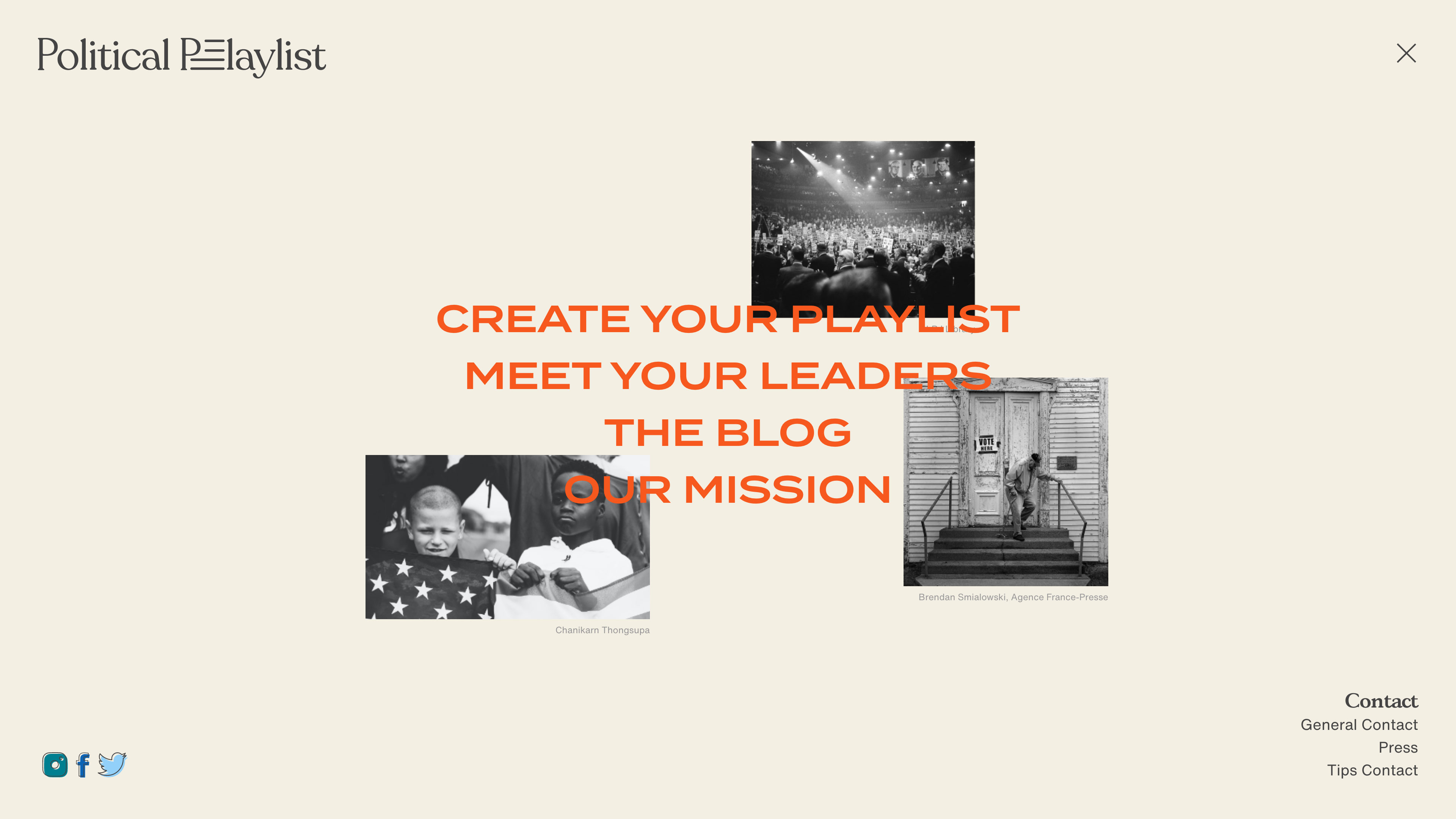 Political Playlist was created to provide a personalized tool to educate, represent, and engage voters with the next generation of congressional politicians. Currently, only 17% of the members of congress are younger than 45, the majority of whom seldom receive media attention beyond their local news outlets or personal social channels. Back in 2019, after discovering that millennials have become the largest voting bloc in the country, Anna and Anthony imagined a user-friendly platform to match users with like-minded political leaders. Establishing these connections sooner rather than later could maintain and increase voter engagement, and down the line lead to policy changes more people support.
Today, this idea is grounded in a website that leads a user through a quick series of questions. After signing up, in the mail every two weeks comes a curated newsletter with news on this younger set in congress. And the results are not fixed; they can be modified at any time.
"As Political Playlist was in startup mode, Anna and Anthony knew the space they wanted to launch into, but finding their creative voice was an iterative journey Funkhaus led them through," said Rick Baker, Funkhaus Design Director. The process began with a loose brand identity that stood strong on mission and values, but undefined on looks. Most importantly for the final product, the client insisted, was to show a nonpartisan agenda. The visual style within the site needed to stay politically agnostic, so as to stand the test of time as a vehicle for information.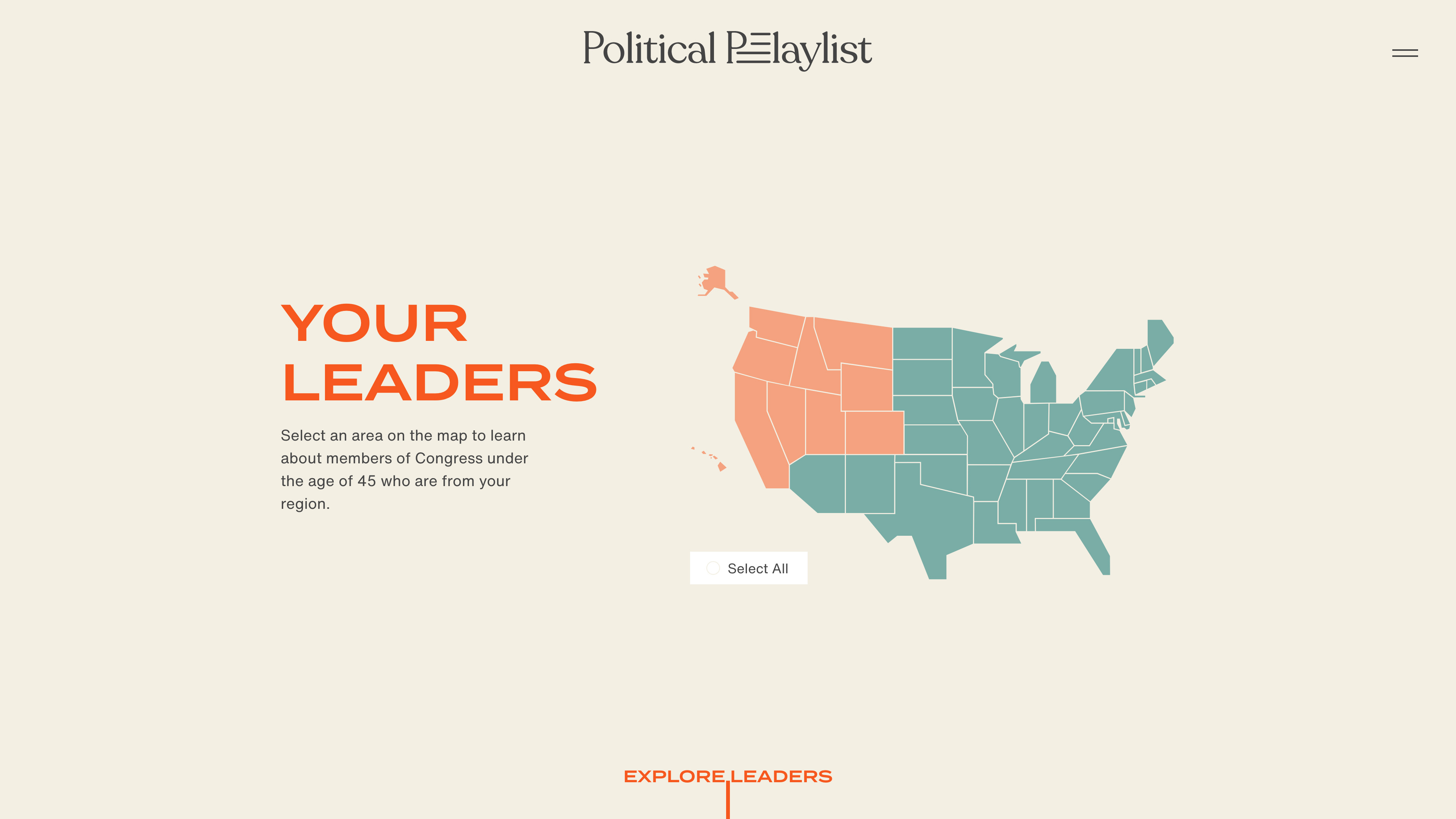 While our design team worked out the visual language, our programming team confronted technical challenges that required a bespoke union between form and function. To support this innovative content delivery platform, we designed an approachable and engaging user-interface backed by a customized data collection system. On the frontend, the goal is to efficiently message the big idea while quickly moving the user through the sign-up flow. As a user answers a series of questions, actionable data is collected and then algorithmically served up as customized playlists. To avoid the user feeling tasked by the questions (which there aren't even that many of), we collaborated with Political Playlist designer Delaney Maher, who created collages and illustrations to enliven the experience. Rick said he was most proud of the user sign-up and onboarding process; in the dynamic braiding together of two complex functions that appear as an inviting, focused, and important interaction. Like a fun and responsible thing to fill out.
To facilitate this high degree of customization, we needed a complex content management system. We are big supporters of open source, so we reached for the tried-and-true WordPress CMS platform. We built out a custom REST API to handle the user processes and leveraged the cutting edge GraphQL query language for the more intense data layer of the website. We're also big proponents of Vue.js and its community in Los Angeles, so naturally, we built the front end using the Nuxt.js web application framework.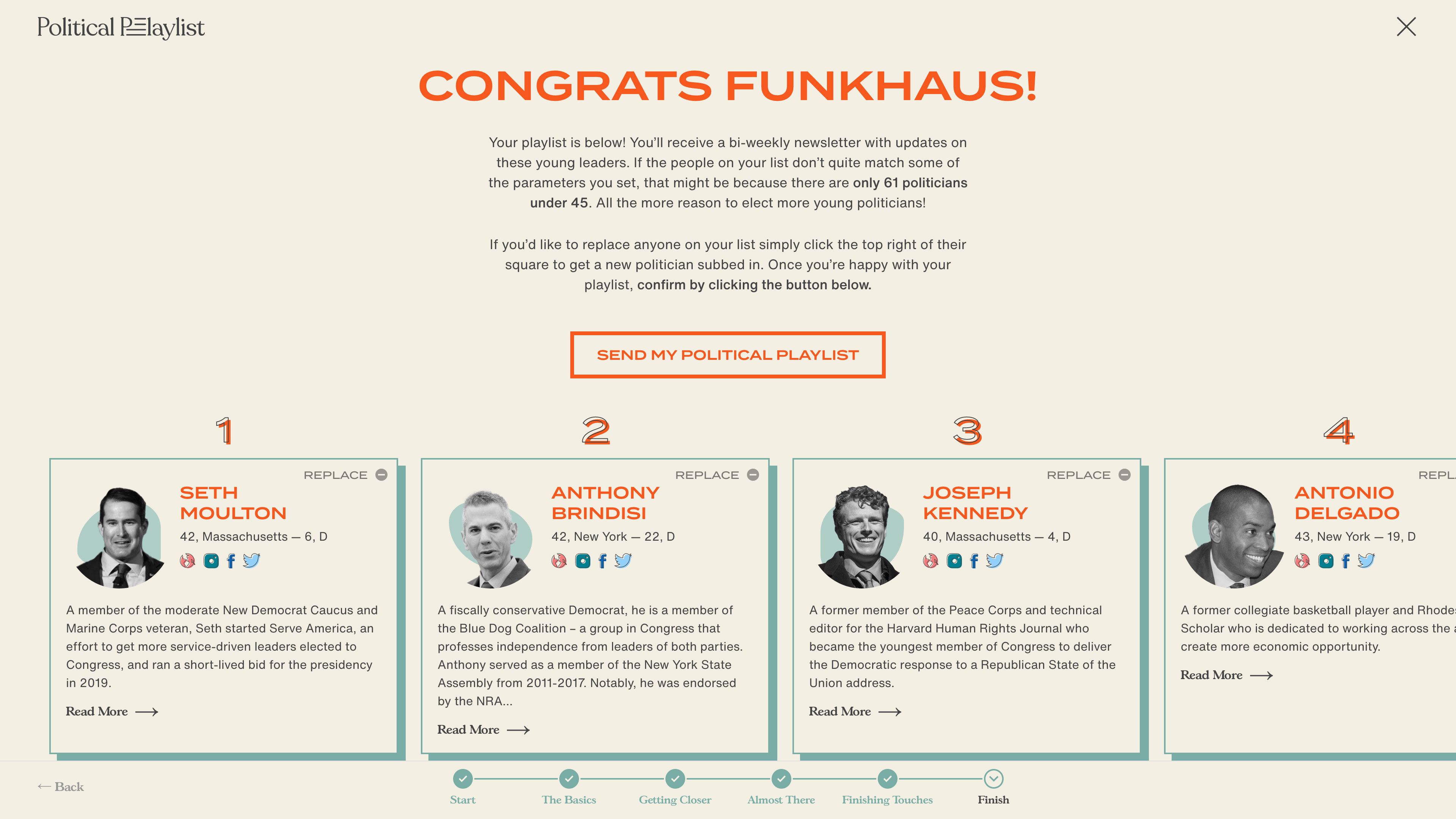 The playlists have been going out since the website launched in October 2020, and while we love seeing it out in the world, it feels good that we could apply our expertise to bring to life an idea that has potential to impact the way, and the why, people engage in politics. And as Rick added, as much as he enjoyed nerding out with Delaney over fonts and color palettes, "designing something that played a small part in helping kick a imbecilic fascist racist out of the White House was satisfying too."
Sign up to receive your Political Playlist here, and don't forget to VOTE UP Political Playlist's chance at winning a Webby!